Join Me For the Premiere of Discover the Gift in New York City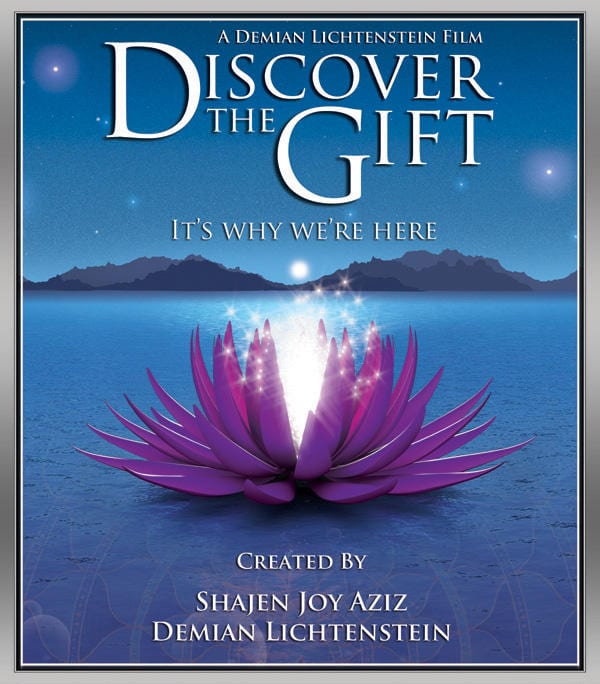 Join me and other luminaries for the New York Premiere of Discover the Gift!
THE DISCOVER THE GIFT WORLD PREMIERE EVENT
At The Skirball Center For The Performing Arts, NYU
Hosted by
Michael Bernard Beckwith
In association with Agape International Spiritual Center:
Join us for the World Premiere Event Screening DISCOVER THE GIFT by Demian Lichtenstein & Shajen Joy Aziz to be Hosted by Michael Bernard Beckwith, with a special award presentation and a performance by Ricky BB. There will be a Golden Circle pre-screening reception honoring the esteemed luminaries from the film and a post-screening panel to follow.
Here's a preview of the evenings festivities
Click Here To Discover The Gift Event Highlights
---
Event Details:
June 14th, 2011
6:00 Pre-Screening Golden Circle Reception
Kimmel Center  -Eisner & Lubin Auditorium – room 40160 Washington Square South (enter at 566 LaGuardia Place)New York, NY 10012
7:00 Premiere Screening Location
Skirball Center for the Performing Arts60 Washington Square South (enter at 566 LaGuardia Place)New York, NY 10012
Mandala Art Exhibit
Paul Hassenstamm
Drum Circle
The Gift of Rhythm Drum Circle to perform
Opening Address
Michael Bernard Beckwith
Special Performance
Ricky Byars Beckwith
Introduction, Breathing and Meditation Exercise
Demian Lichtenstein
Screening
97 min
Acknowlegements
Demian, Shajen, Cherif, Maya
Award Presentation
Discover The Gift World Humanitarian Award presented to Michael Bernard Beckwith
Speakers in attendance
Michael Bernard Beckwith
Barbara DeAngelis
Niurka
Rev Sheila Mc Keithen
David 'Avocado' Wolfe
John Castagnini
Tickets:
$10 Student
$20 General
$150 Golden Circle – Single
$250 Colden Circle  – Couple
*Golden Circle tickets include a Pre-screening Gourmet Catered Reception, Preferred Seating, and a Gift bag that includes the DISCOVER THE GIFT book and DVD*
---
Tickets and more info
The Skirball Center For The Performing Arts, NYU
Purchase Discover The Gift World Premier Tickets
BY PHONE
212.352.3101  or  866.811.4111
IN PERSON
NYU Skirball CenterShagan Box Office 566 LaGuardia Place at Washington SquareTuesday-Saturday 12noon-6:00pm and two hours before show time
ABOUT
THE DISCOVER THE GIFT WORLD HUMANITARIAN AWARD is presented to individuals and organizations who have shown an extraordinary commitment to enhancing global communities and/or individuals from a foundation of personal spiritual empowerment, transformation and selfless service. This is the highest honor that we as a global organization who are also committed to the transformation and empowerment of our planet and all who dwell upon her, can bestow.
MICHAEL BERNARD BECKWITH will be presented this award for his service as the founder and spiritual director of the Agape International Spiritual Center, a spiritual Center that is rich in cultural diversity with world wide reach in it's vision to create a world that works for everyone. For more information on Agape, please visit their website www.agapelive.com
DISCOVER THE GIFT is the remarkable feature-length documentary film, book, and movement created by award-winning filmmaker, Demian Lichtenstein, with his sister, Shajen Joy Aziz, M.Ed. that celebrate the basic but vital reality that there are Gifts in each person, and in all circumstances, that are simply awaiting discovery. The degree to which you nurture, educate, and allow the miracle of your Gift to live is in direct proportion to the degree to which you will experience full self-expression, joy and connectedness.
Framed by the touching personal narrative of siblings Lichtenstein and Aziz DTG describes their journey from tragedy to triumph, as they create a life of joy, power, fulfillment, freedom, and unconditional love. For more information on Discover the Gift please visitwww.DISCOVERTHEGIFT.com
NYU SKIRBALL CENTER:
The Jack H. Skirball Center for the Performing Arts is the premier venue for the presentation of cultural and performing arts events for New York University and lower Manhattan. Led by executive producer Jay Oliva (President Emeritus, NYU) and senior director Michael Harrington, the programs of the Skirball Center reflect NYU's mission as an international center of scholarship, defined by excellence and innovation and shaped by an intellectually rich and diverse environment. A vital aspect of the Center's mission is to build young adult audiences for the future of live performance. http://www.skirballcenter.nyu.edu
~~~   What People Are Saying About Discover The Gift   ~~~
"The most important spiritual transformational film on the planet"–Mark Victor Hansen, co-creator Chicken Soup For the Soul
"Discover The Gift is what people have been waiting for…"–Richard Cohn, distributor and publisher of "The Secret"
"Discover The Gift is more than just an exquisite and uplifting film—it is a unique, transformational experience that will expand the mind, heart and consciousness
of anyone who sees it. For the first time ever, the inner journey of personal discovery has been captured by a filmmaker and presented with the highest level of mastery and artistry,
resulting in a visual and emotional adventure that should not be missed . We are in a time of great acceleration on the planet, and I believe this film
will help millions of people ask and answer the essential questions: "Who am I, and what am I doing here?" .
'Discover the Gift' is a gift for our time. It is to film what Oprah has been to television. It is in perfect alignment with my own work and life mission,
and it is a true honor to be a part of it."
–Dr. Barbara De Angelis #1 NY Times Bestselling Author and Transformational Teacher
★ ★ ★ ★ ★ Five Stars on Amazon.de
★ ★ ★ ★ ★ #1 of the Top 10 Must See Spiritual Growth Documentaries in 2011 "Discover the Gift" is a film that both enlightens and inspires…
Extraordinary Intelligence a popular blog discussing the esoteric, paranormal and spiritual world has included a review of Discover the Gift titled "Discover the Gift: Transform Your Reality," noting, "This is a film that plays as a love letter to the human spirit." Attached is the full text for your reference. Follow this link to see the story & trailer posted online:http://extraordinaryintelligence.com/4856/the-unexplained/discover-the-gift-transform-your-reality/
RADARONLINE News Editor Neil Woulfe has posted the Q&A with Demian noting "Discover the Gift — a  multi-media project on spirituality that includes a new book and a profoundly powerful film, both being released on Tuesday, June 14." Attached is the clip with full text from the story. Follow this link to see the story & trailer posted online:http://www.radaronline.com/exclusives/2011/06/hollywood-director-demian-lichtenstein-discovers-his-true-gift-and-you-can-too
BELIEFNET.COM editor Nell Minow has reviewed Discover the Gift including a Q&A of her interview with Demian and Shajen noting:
"Discover the Gift" is an extraordinary new documentary, book, blog, and CD that reaches from the broadest universal dreams to the most intimate, personal insights, with appearances from powerful lessons from authors, educators, activists, artists, and icons including His Holiness the Dalai Lama, His Holiness Sri Sri Ravi Shankar, Jack Canfield, Janet Attwood, Terry Tillman, David `Avocado` Wolfe, Michael Bernard Beckwith, Mark Victor Hansen, and Niurka and more.
It is the passion project of a brother and sister, filmmaker Demian Lichtenstein and educator Shajen Joy Aziz. Part of the pleasure of speaking to them was the way they brought all they have learned about recognizing and respecting the gifts in others as well as ourselves to the conversation. And it is impossible not to feel privileged by the way they have opened up their own lives as a part of their quest to bring this message to everyone. Follow this link to see the story online à http://blog.beliefnet.com/moviemom/2011/05/interview-the-brother-and-sister-behind-discover-the-gift.html#ixzz1NagAOaoa
Spirit&Destiny magazine, the UK's top spiritual and lifestyle magazine, with a circulation of 57,842, has included a brief review of Discover the Gift in the May 2011 print issue. Features editor Emily Anderson gave Discover the Gift 5 stars noting:
"This is an inspirational new documentary by award-winning Hollywood film-maker Demian Lichtenstein (who has also directed music videos for Sting and Gloria Estefan, among others) and his sister Shajen Joy Aziz. It debuted to great acclaim at the Sundance Film Festival in January this year.
"Discover the Gift follows the siblings' journeys towards fulfillment, joy and unconditional love, as they reveal that we all have special gifts within us waiting to be awakened and shared. Theirs include storytelling and being visually creative. As well as their own uplifting and heartwarming stories, you'll be inspired by the wisdom of more than 40 of today's transformational leaders who share their experiences on finding and working with your gift. This compelling and personal film is sure to be a word-of-mouth winner. Go towww.discoverthegift.com to find out more about the film and its message."