What To Do If You're Feeling Stuck in Life or Business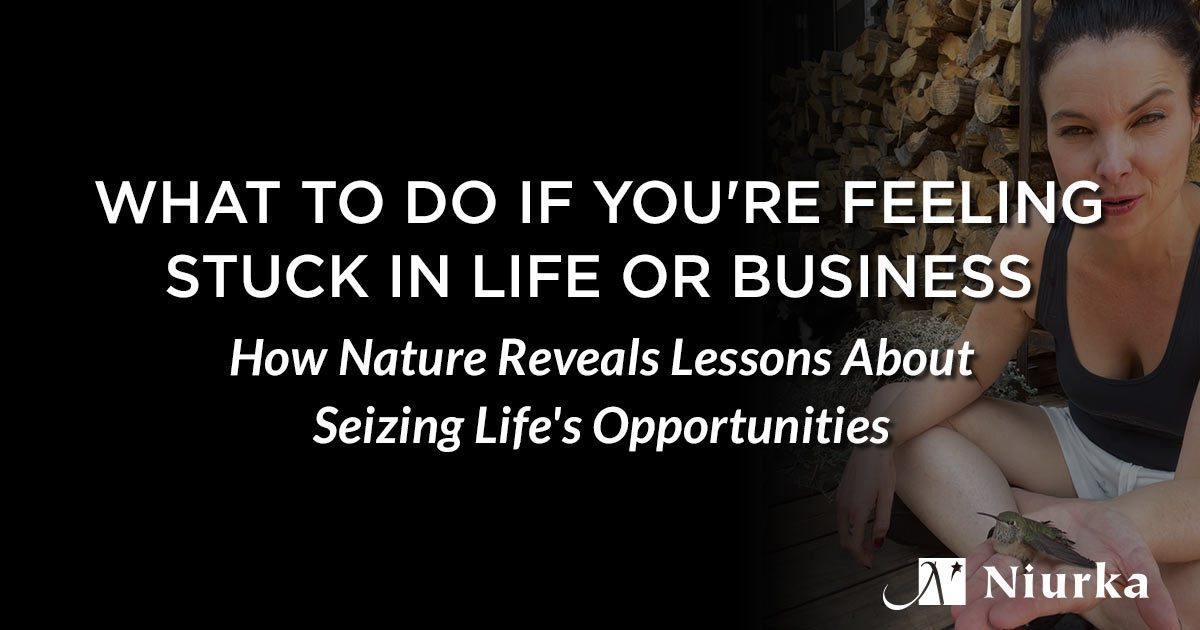 How Nature Reveals Lessons About Seizing Life's Opportunities
If you've been feeling stuck in life or in business, I have a story for you that can empower you to overcome obstacles and open doors of opportunity.
Yesterday, a hummingbird flew up to the 3rd floor of my mountain home. He was fixated on flying through the glass, frantically seeking freedom through a solid windowpane.

*** Spoiler Alert: don't miss the cute video of the Rescue Mission Accomplished (at the end).
Through the glass, the little creature could see his escape. He mustered his might and, in a fierce attempt at freedom, flew smack into the window. Exhausted and desperate, but with single-minded focus, he summoned his pluck once more. Again he rammed into the window, and his little body collapsed onto the ledge.
I was about to hop on a Zoom training session that I was leading; and, I couldn't physically reach the little bird because my windows are so high.
I opened every door and window in the house to give him access to FREEDOM, but he was so fixated on the glass that he didn't see the wide open doors all around him.
Nature Reveals Life's Lessons
Nature is a profound wisdom teacher when we listen to her signs.
This calamity was happening at the precise moment that I was leading my Zoom training session (no accidents)!
I shared this timely metaphor with my students on Zoom, while this life and death tragedy played out in the background…
I asked...
How many of you feel like this hummingbird -- in a certain area of life -- perhaps, finances, your work, direction, relationships, etc.?
You know there's great FREEDOM and JOY available to you, but somehow you're stuck. There's something that you're not seeing; something you're not getting.
Why is it so common for people to feel stuck?
BECAUSE they are fixated on problems, not possibilities
BECAUSE they are operating off past knowledge, not fresh insight
BECAUSE they have tunnel vision, rather than expanded awareness
BECAUSE they are trying to figure it out on their own
BECAUSE they are trying to do it all by themselves
BECAUSE they haven't asked for help
BECAUSE they make excuses
Doors of Opportunity Surround You Now
The hummingbird was running out of fight, and his racing heartbeat was visible through his feathers.
To be free, all this little bird had to do was look around and fly through one of the many wide-open windows or doors — FREEDOM was seconds away.
Feeling a wave of compassion, I went to the rescue…
I did everything that I could think of:
I… opened all the doors and windows (even removing the screens)
I… hung a bird feeder on a chandelier to guide it towards the door
I… took out a huge pole, and tied roses to the end to see if would jump on it (that didn't work)
I… then traded the roses for peacock feathers (that didn't work either!)
I… threw my doggies soft stuffed animal toys up to the window
I… threw water up at my windows to see if he would recognize that the window was solid
I… meditated and prayed, willing it to listen and exit the open door
I soon realized I needed help.
Taking Action To Get Desired Results
This is an IMPORTANT teaching: Graciously ASK for support and assistance when you authentically need it.
Do not try to figure it out on your own.
Do not give up.
Do not make it okay to allow suffering to happen on your watch, whether it's your own or someone else's.
Take Action and ask for assistance.
Committed to guide this little creature to FREEDOM, I took action, and asked for help...

I… posted on a local community Facebook forum asking neighbors for assistance.
I... called the local bird sanctuaries (no answer)
I… called all the local window cleaning companies, and met Raul, who answered my call but was out of town
I… explained the situation to Raul, and inspired him to help
Raul… called his window cleaning friend Andy, who was also out of town
Andy… called his new friend Michael who was housesitting for him
Michael… got the call from Andy, and had seen my post on the local community forum

My phone rang…
I answered, "Is this the bird rescuer?" He laughed.

It was Michael, who I had never met. He graciously came over with a gargantuan ladder.
Long story short…
We rescued the little creature.
Watch This 1 Minute Video
After about 15 minutes of rest on my hand, and a little honey water, the hummingbird flew off to his FREEDOM right before my eyes.
I'll Guide You All The Way To Freedom and Joy
If you've been feeling like the hummingbird, in any area of your life whatsoever, do NOT try to figure it out on your own. You'll waste time and energy, and exhaust yourself.
Be available to the compassionate support and guidance that is available to you now.
If you've been feeling stuck, now is the time to allow me to support and guide you.
Dear ONE, this is a WIDE OPEN Door of Opportunity.
I'm ready to guide you all the way to FREEDOM and JOY.
Join Me August 7-10, 2021 for a 4-Day Journey of Personal Transformation, known as: NeoGenesis (NEO).
At NEO you'll overcome obstacles, expand your awareness, and get the assistance from a true Master Results Coach to powerfully move forward to Create a New Beginning filled with Freedom, Joy, Purpose, and RESULTS.
I'll see you at NEO.

I literally was that Bird!!!You took me to FREEDOM and JOY!!!! Before I met YOU, I couldn't see beyond my "limiting beliefs/dis-empowering thoughts …" yet, I wanted to become Successful!!! To BECOME a LEADER!!!! I Do Not easily give up … but back then, when by the GRACE of GOD, I met you, I was sooo close to giving up on everything….
AFTER taking my first SIIA with YOU, I Become Alive. And it was in Neo Genesis, I declared my name as Mina Joy, as YOU guided us to Freedom and JOY.
My Life has been Blooming since the day I met you … And FEELING So Grateful that GOD Opened the Door of Opportunity for me to Meet YOU.
The MORE I sit in your classes, the MORE I FEEL Your PASSION to help each one of us.
YOU ARE ONE of the Kind. Pure Love, Devotion, Wisdom, Care, and Passion.
Can't wait to SEE YOU at Neo.
With Eternal Gratitude. All my Love. Mina JOY

Hi Niurka,
This is such a special story and metaphor for when we get stuck in our lives. So joyful experiencing your life's dedication to this hummingbird's freedom and ours. I have never seen anyone able to hold a hummingbird still like that. Your Deepest Nature. Your calling in life. That you may hold your students in the stillness of your hands while we become even more empowered. For us to grow our wings. For us to take flight. See you at NeoGenesis for even more Breakthrus.
Love,
Brendan

I am speechless! Amazing story! That hummingbird that you saved is so parallel to what you do for your community. Helping people break free of patterns and behaviors that do suit them so they can be free to do what they are truly intending to do.

Thank you for sharing! Glad the bird choose your glass because you have the heart to help.

I love this metaphor and how the story played out …
The problem
The persistence
The rescue
The Freedom
The lesson…
Stop focusing on the problem that keeps you stuck and be Open to the resources with the solution that are present all around you.
Thanks for sharing Niurka! I'm grateful for you and your life's work… a solution that transforms lives. 💫💕