Challenges Can Be Blessings In Disguise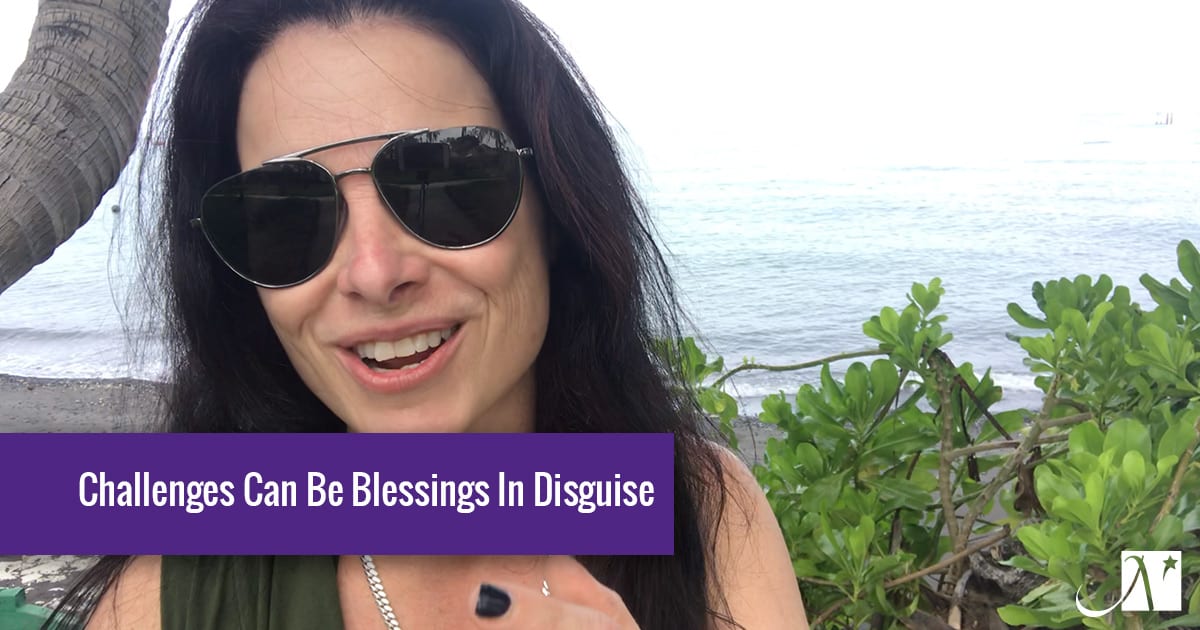 Hello Beautiful Community,
I'm here in Bali, one of my most favorite places in the world, and I've got a profound insight for you.
So many times I see people that live in reaction based on what appears to be happening outside of them. If something shows up in their business or in their life that's what they desire, then they're happy, and if something shows up that isn't what they want, they get upset or they become angry and live in reaction to what appears like the outside world.
Well, the insight I have for you today is that, often, your greatest blessings are challenges in disguise. What brought me here to this amazing land, back in 2009, was that I had a traumatic motorcycle accident. I broke my leg in a triple spiral fracture of my tibia and fibula. I've got a metal rod with pins and screws in my left leg. I knew that it was time for me. it was fascinating – if you've read this in my book – I kept telling myself, "It's time for a break. I really need a break."
Well, whatever you speak, your cells are eavesdropping on your internal dialogue. They're listening to what it is that you're saying.
In this moment, I tuned in to the inner intuitive wisdom, to my own intuition and the silent voice that said, "Go to Bali." I listened. I went on sabbatical.
I came here for several months, and I dropped into meditation and visualization. Before I arrived, the doctors had diagnosed that I would never walk the same again, that I would walk with a limp. I remember the conversation. Immediately, I declared that their diagnosis would never become my reality.
I arrived with so much gratitude in my heart for being able to be here. I went straight into prayer, mantra, meditation, and really healing vibrations, knowing that everything in this universe is vibration.
Within 10 days, I was walking without a limp. This land and people have welcomed me so deeply. The divine energy is palpable. I've returned many times since, and through this journey, I became inspired to create an experience, a sacred adventure of a lifetime for the graduates of my courses and for our community.
I haven't officially made any announcements on this yet because the only people that have enrolled (and were almost sold out) are graduates of our other courses.
I'm going to be bringing a group here to Bali September 2019. This is an experience unlike any other. You can't fly here to Bali and have the type of experience that you would have with me, because we're going to be going into temples at particular times and meeting with priests and having experiences that you can only have once you've already been fully integrated.
I'm giving you a little glimpse of this, because you'll be hearing more about it. And if you've been watching my social media, you've been seeing pictures. I'm here now very purposefully preparing for the arrival of our community into this holy land of over a million temples.
As I'm walking to breakfast right now, I'm going to inspire you to know that any challenge you're navigating in your life right now, any hardship, any traumatic experience, whatever that would be. If you can see through that into a new gift, a new insight, a new possibility, know that, often, your greatest blessings are buried within your greatest challenges.
This is the alchemical process. I love that word 'alchemy', because it is the transmutation of anything that shows up in your life that feels dense or dark or heavy, the lead, if you will, that shows up in your life. How do you gather the gifts, gather the insights, and then transform it in a way that evolves your life's work, your contribution, and who you are, your being?
I'm sending you infinite love, and I am inspired to be in your presence soon.
Namaste, or as they would say here in Bali, Om Swastiastu.
See you soon.