Neuro-Linguistic Programming NLP: What It Is and How It Works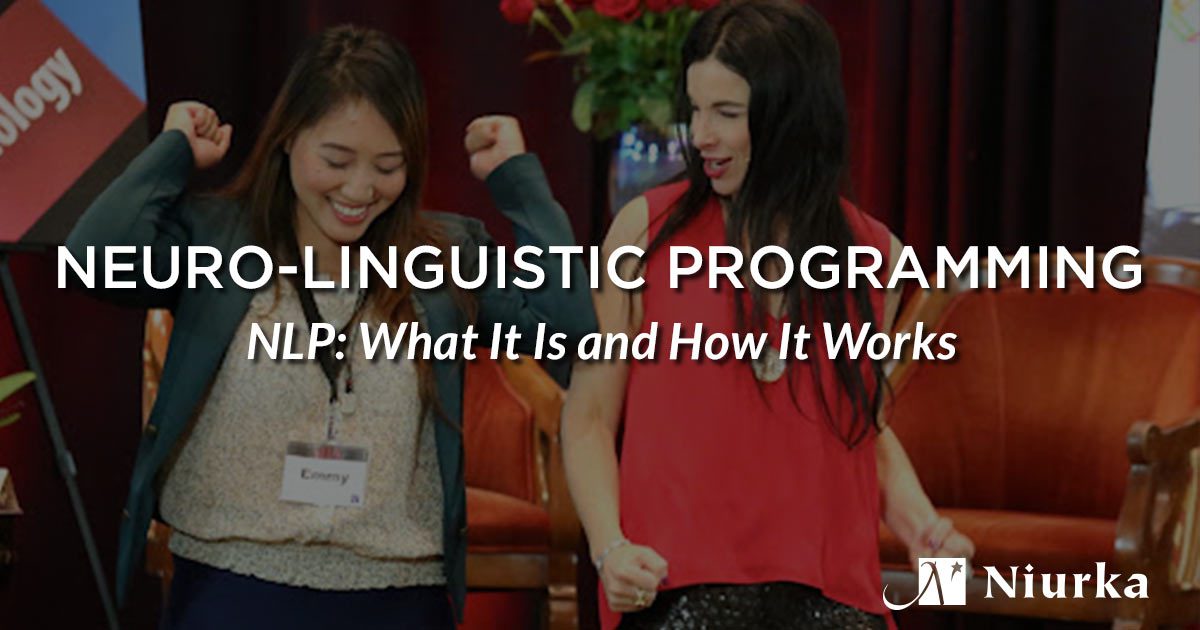 One of the pillars in my life's work is neuro-linguistic programming, aka NLP.
What is Neuro-Linguistic Programming (NLP)?
NLP is a strategic approach to changing one's thoughts and behaviors to achieve desired outcomes and results.
NLP is an attitude and methodology for analysing excellence in human behavior and creating duplicable models that can be used by anyone to enhance performance.
NLP studies the structure of subjective experience.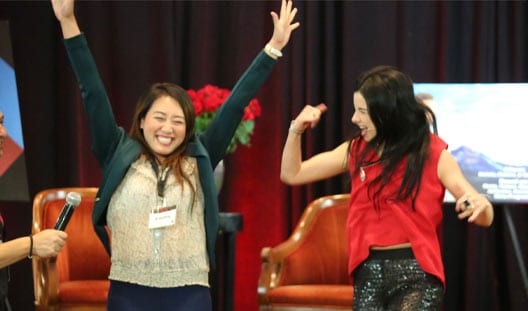 Before we go deeper into the awesome power of NLP, I'll share with you a bit about my history with it.
My Personal History with NLP
At 19 years old, I would sit in the audience — in awe — watching my then boss, Tony Robbins, miraculously transforming people's lives. (I was his top corporate trainer)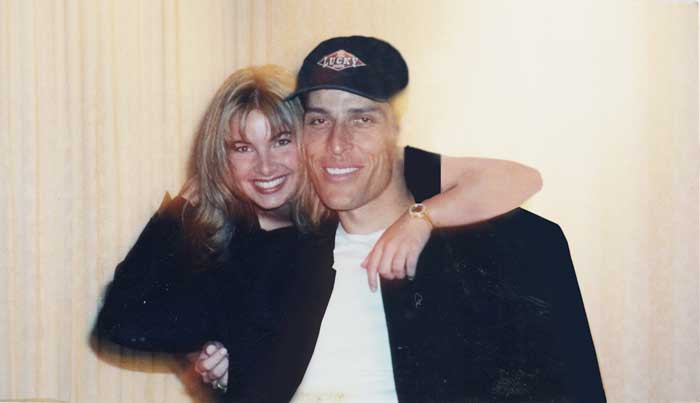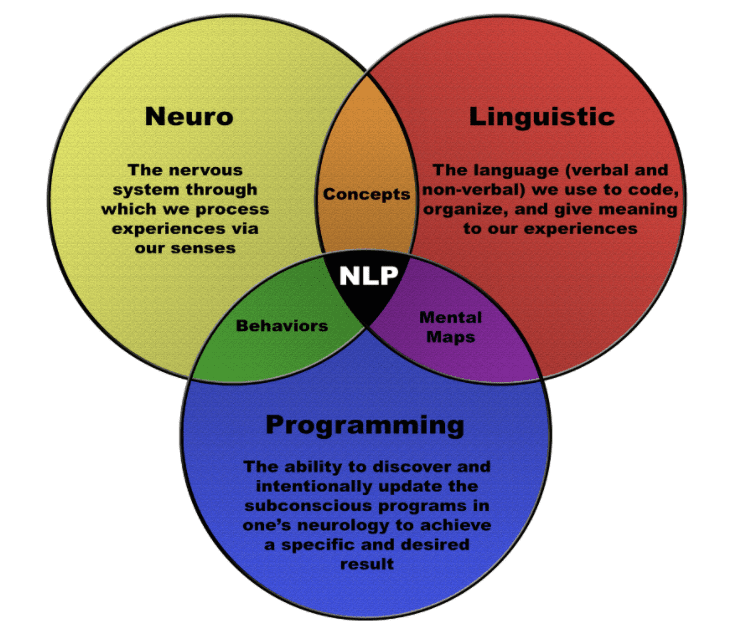 I witnessed…
Lifelong phobias dissolve on the spot

People going from bankrupt to prosperous

Couples on the verge of divorce letting go of grievances and connecting

Families heal and transcend circumstances that they couldn't see beyond before

Individuals who were contemplating suicide changed their mind on the spot and became grateful for the gift of life
Like a linguistic Jedi, Tony could reframe any problem into a possibility.
This intrigued me at a deep level.
I was enthralled by the innate power we have to Transform Our Lives!
Captivated and fascinated, I made a commitment:
To understand the Structures, Strategies and Attitudes to Hack The Mind and Transform average into Super Stellar Success and RESULTS.
I wanted to empower myself and others to:

BREAK FREE!

Move Beyond our greatest challenges

Create Epic Victory, Success and Prosperity!

Live a Joyful, Loving, Creative, Inspired Life...On Our Terms!
I wanted to connect the dots between science and spirituality.
So this part of my journey began, with devotion, to mastering the art and science of NLP.

The Origin of Neuro-Linguistic Programming (NLP)
NLP emerged in 1975 when Richard Bandler (a contemporary psychologist) and John Grinder (a transformational linguist and professor) at the University of California Santa Cruz began studying the world's most successful communication experts and psychotherapists.
By examining how these geniuses produced consistent, outstanding results, Bandler and Grinder reverse-engineered the communication strategies of Fritz Perls, Virginia Satir, and Milton Erickson, three of the most prominent and accomplished psychotherapists alive at the time.
As Bandler and Grinder studied these linguistic wizards and translated their approaches into duplicable models, Neuro-Linguistic Programming (NLP) was born.
Neuro-Linguistic Programming (NLP) Defined
Neuro-Linguistic Programming (NLP) has been defined in different ways, including:

"A system of alternative therapy intended to educate people in self-awareness and effective communication, and to model and charge their patterns of mental and emotional behavior."
Why You Want To Know NLP
Imagine having the ultimate communication skills, strategies and attitude to:
Transform negative mindsets or behaviors (like: stress, anxiety, overwhelm) into

Empowering mindsets and behaviors (like: clarity, focus, inspired action)
... on the spot!
This (and more) is the power of NLP!
THINK (neuro) SPEAK (linguistic) ACT (programming)
NLP explores the relationship between:
How we think

(

neuro

),

How we speak

(

linguistic

), and

Our patterns of behavior and emotion

(

programming

)
Let's break it down…
Neuro: our neurology and the ways in which our brains and nervous systems process information through our senses: sight (visual), hearing (auditory), touch (kinesthetic), smell (olfactory), and taste (gustatory).
Linguistic: our language and other nonverbal communication systems through which our experiences, memories, and visions are coded, ordered, and given meaning. This includes pictures, sounds, feelings, smells, tastes, and internal dialogue.
Programming: uncovering the way we code, store, and represent our experiences within our neurological systems. This includes the process of intentionally updating (i.e., re-programming) the automatic, subconscious programs within one's neurological system to achieve specific desired outcomes and results.
What is Neuro-Linguistic Programming (NLP) Used For?
NLP offers us a potent mindset, methodology and toolbox of techniques for alchemizing real problem scenarios into radical new inspiring possibilities, like…
Fear into Fuel

Anxiety into Enthusiasm

Procrastination into Inspired Action

Any Current State (Mindset/Behavior) into an Empowering, Desired State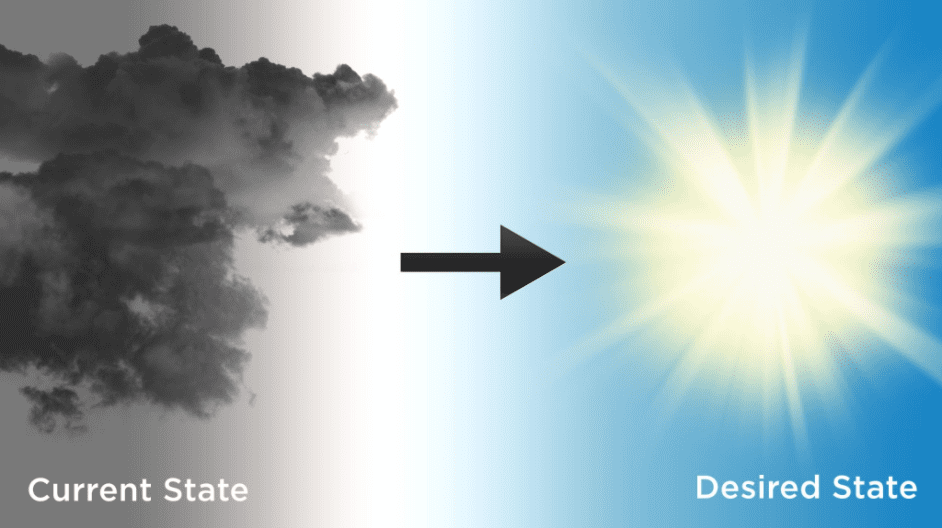 How Does Neuro-Linguistic Programming (NLP) Work?
Science affirms that we live in a universe of infinite possibilities.
Our brain and nervous system can't take in all this data.
Therefore, all day long we:
Delete Information

Distort Information

Make Generalizations
We sort through a field of infinite possibility — deleting, distorting, generalizing — and we pick up a tiny little bit of what's going on.
The little bit that we pick up matches our deepest beliefs, values, identity, vibration, and programming.

This is awesome news!
Because we can choose to:
Shift our perspective

Elevate our vibration

Transform our beliefs

Refine our core values

Update our identity

Clarify our vision

Pivot our direction

Enrich our experience of reality
That's why NLP teaches: Perception is Projection.
I like to add… Until You Wake Up!
Here's an illustration: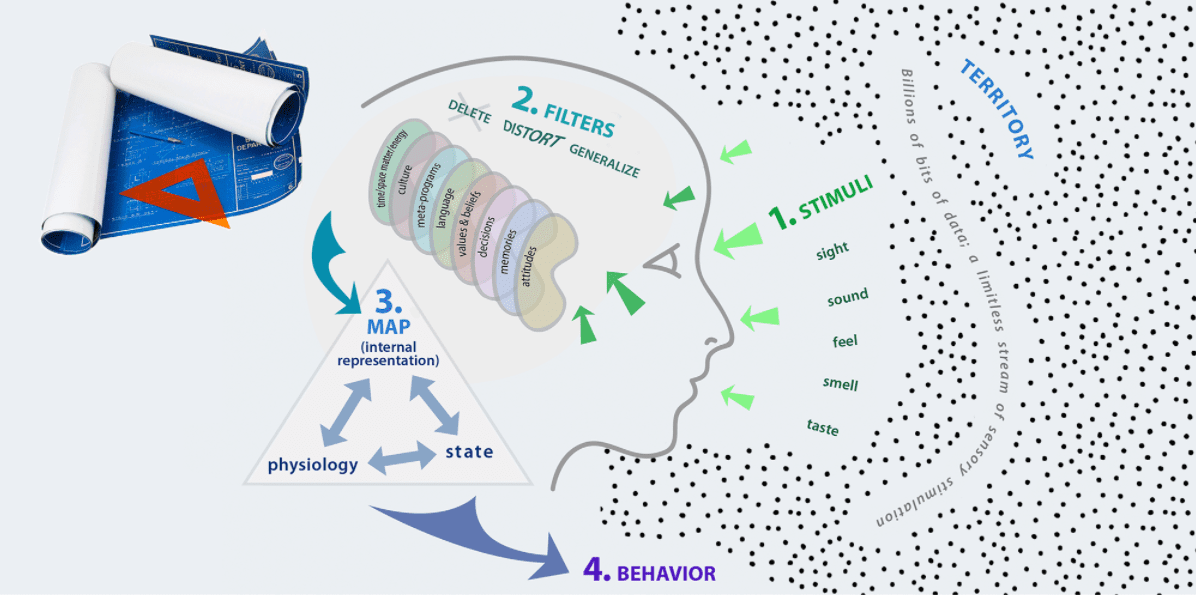 Imagine the person in the illustration above is you.
You're surrounded by billions of bits of information — including epic opportunities as well as potential challenges.
Your neurology can't take it all in, so you filter the data through your senses. In this process you Delete, Distort and Generalize information. You create an Internal Map. This map has structure.
NLP teaches:
People Do Not Respond to Reality.
They Respond to their Map of Reality.
The Map is not the Territory.
NLP guides you to elicit inner maps that don't serve you and replace them with ones that do.
NLP gives you greater choice because it updates and enriches your map of the world.
It accomplishes this through an attitude and a series of Transformational Processes that are continually being updated, and are carefully designed to transform any current mindset or behavior that does not serve you (aka: doubt, stress, anxiety) into a desired mindset or behaviors instead (like: joy, love, empowerment, clarity, focus).

NLP Is Greater Than It's Mesmerizing Techniques
One of the things I LOVE about NLP is that it has reverse engineered the strategies of high performance achievers and turned them into duplicatable models and techniques.
NLP leaves behind a trail of techniques for guiding rapid intentional change.

Although NLP has mesmerizing and life-changing techniques, NLP is greater than the sum of its techniques. It's its attitude that sets it apart.
There's a deeper set of guiding principles, and a fundamental attitude of a true master practitioner that sets the tone for NLP's magical ability to produce incredible rapid results.
For example, here's a few NLP Presuppositions that we embrace, because they work:
My Communication Is The Response I Get

Above Every Behavior Is A Positive Intention

There Is No Failure, Only Feedback
Neuro-Linguistic Programming (NLP) is Evolving
NLP is an evolving body of work.
Its ultimate purpose is to study, describe, and transfer models of human excellence.
Traditional NLP is neutral in the sense that it does not have a value system.
For example, one could use the same tool (i.e., NLP skill) to build a school, a prison or a temple. The tool itself is neutral.
It's the intention of the one who wields the tool that determines the outcome of what is built.
When I began leading Certification Trainings in Neuro-Linguistic Programming (NLP), I declared my particular NLP approach to be Evolved.
Hence I use the term: Evolved NLP.
Where traditional NLP is neutral and without a value system, Evolved NLP, emerges through the wisdom of the heart, meaning...
Evolved NLP recognizes the Unity flowing in, as, and through all existence.
Evolved NLP asks questions, like: Is this the highest choice for everyone involved?
Evolved NLP recognizes that:
The same Life Force beating your heart, beats mine.
The same Life Force breathing you, breathes me.
In Essence, WE Are ONE.
The Process of Transformation
Here's my rendition of what happens during an NLP transformational process.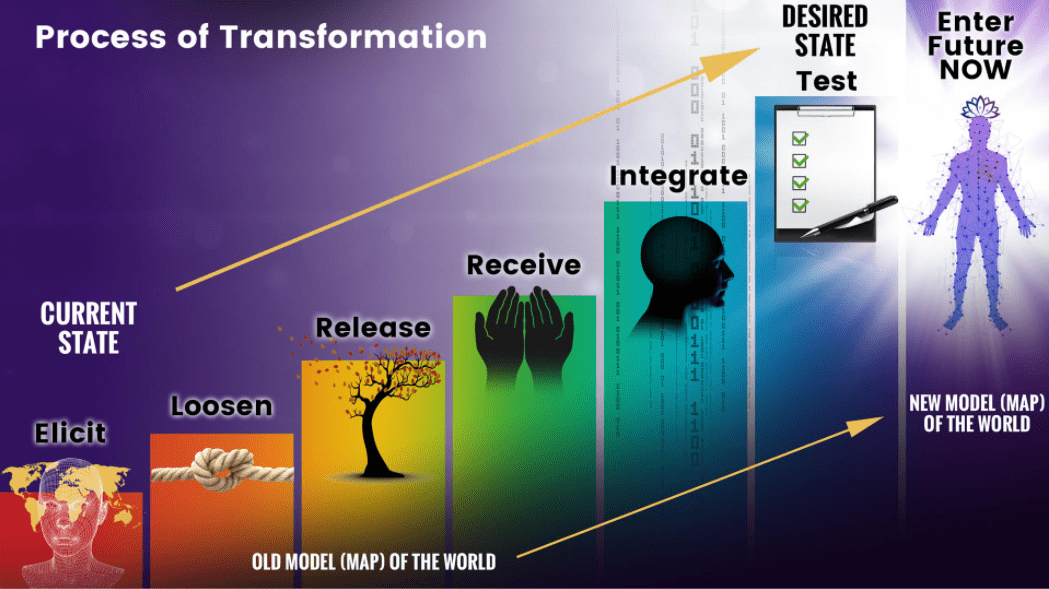 We begin by eliciting your existing map of the world (i.e., uncovering what makes you think what you think, feel what you feel, and do what you do...at the deepest level of your subconscious mind).
Let's make this realistic by giving you an example…
In NLP, we begin by asking the questions:
What's the problem?

How is that a problem?

Are you ready to let go of that problem, right now, and be fully aware of it?
First, we elicit a "problem."
It could be anything.
For example, if I asked you the question "what's the problem?" What would you say?
Here's a few "problems" I've heard from community members:
Financial struggles

Lack of confidence

Lack of clarity

Procrastination
Once we identify the "problem" we can begin loosening the boundaries around this old problem with a few powerful Evolved NLP exercises.
This creates space to release old mindsets (like: insecurity or self-doubt) and limiting beliefs (like: "i'm not good enough") that do not serve you.
Then you integrate new empowering ways of thinking, being and taking inspired action.
Of course, we test our work. How? By actually creating scenarios where — in the past you would have reacted unresourcefully — but now, in Light of your awakening, you'll notice what's different.
Then we "Future Pace" — a visualization exercise that guides you to successfully experiencing your desired results accomplished in advance in consciousness.
This Evolved NLP Process of Transformation sets the stage for your success!
I'd love to guide you through it.
I'm inviting you to join me and our community for a life-enriching Evolved NLP Training Experience that will elevate every area of your business, relationships and life!
Once a year I lead SIIA / Supreme Influence In Action, a 4-day deep dive training course on Communication Mastery and Evolved NLP.
SIIA gives you the mindset, teaching, tools, skills and experience to become a Certified NLP Practitioner.
To prepare you to maximize your 4-day SIIA training experience, get the new digital course: Supreme Influence: Influence Yourself, Influence Our World. Click Here to purchase for Only $111 (Retail Value $297) and start your journey to mastering Evolved NLP today from the comfort of your home
I can't wait to continue this conversation with you!
Leave me a note in the comments and let me know what part of this blog inspired you most.
Thanks
XOXOXO
Niurka, Inc. is an accredited institute of NLP and Hypnosis, offering global Certifications recognized by The American Board of NLP and The American Board of Hypnotherapy. To learn more about becoming a Certified NLP Practitioner: Click Here and Join Us for: SIIA / Supreme Influence In Action.